Do you ever have days where you feel like a character in someone else's novel?
I had one at the start of this week.  I felt slightly surreal from first thing in the morning, and the day was capped by a magical experience.
I've recently started supply teaching.  It's 18 months since I resigned my permanent teaching post and I want to keep my hand in, not lose my hard-earned skills and confidence.  I don't have all that many days free in which to teach and they vary with my yoga teacher training commitments.  So going on the supply list (to cover staff absences) seemed the best option for now.  As nearly all of my 9+ years of primary teaching were done in the same small town school, it is also a good chance to experience different schools.
On Monday I was in a really rural school, 40 minutes' drive north from my home.  There are about 20 children and nearly all of them are in Gaelic medium education.  My charges for the day were the two – yes, you read that right – children in the English medium class.  Spending all day with two children felt nothing like any teaching I've previously done – more like being Mary Poppins or Jane Eyre or Mrs Doubtfire… insert any governess/nanny who fits your mental image of me!  It was an interesting experience, and the first teaching day I can remember where I was able to arrive ten minutes before the children and leave ten minutes after they left, with everything marked and work planned for the next day.
All of Highland schools follow the same dinner menu rota, and when a classroom assistant came round that morning to check our dinner choices, I made a joke about having come on the wrong day as I preferred the menu later in the week.  She said 'I don't fancy today's either, I'll ask the cook if she'll make us a sandwich'.  I was horrified – you don't want to rock the boat when you've just set foot in a new school – but she insisted the cook liked to rustle up extras and it would be no bother.  Five minutes later she was back, saying the cook had picked up some nice mushrooms in Inverness at the weekend and would I like a mushroom stroganoff?  Bemused, I said 'eerrrr…yes, fine, if it's really no trouble'.  And at lunch time I was given an enormous plate of beautifully garnished stroganoff, which I'd have paid at least four times as much for in a fancy restaurant.
But the absolute best bit of the day was driving home.  I left the school about half three and it was already getting dark – well, it had hardly got light all day, what with cloud cover and rain.  The further north you get in Scotland the fewer trees there are, and even 20 miles north of where I live is a noticeably starker landscape.  Everything was tinted in shades of sepia, beige and grey, with a choppy, slate-coloured sea.  The road south winds along between dramatic rock formations on your right and sea cliffs on your left.  For most of the journey, I didn't see another car.  The wind was coming in strong gusts, so I was driving along slowly, admiring the almost abstract geometrical shapes of headlands and mountains.  I was passing a stretch of forestry plantation on my left when I saw a bird rising out of the verge ahead of me.  It was one of those moments where time slows down and your brain can't quite compute what you are seeing.  Mine went 'seagull? No – too big – heron? No, too big – oh my goodness – eagle – huge – must be – yes-'  And while that was happening, the bird had risen to windscreen height and I had caught up with it, so it was literally just a few feet ahead.  And wider than not just my windscreen but the whole car.
The wind must have been so noisy the bird hadn't noticed me, but just at the moment my brain went 'yes – a sea eagle!' it heard the car and glanced back over its right wing.  I saw the huge heavy yellow beak (so different from the golden eagle) as it looked directly at me through the windscreen.  The bird's head jerked in a way that would have been comical if I hadn't been so awed, and it instantaneously tipped up its left wing and soared up and over my car.
Photo credit: www.ebirder.net
The sea eagle, or perhaps more properly the white-tailed eagle, is the largest bird of prey in the UK.  It is sometimes called 'the flying barn door' due to its wings, which are both broad and long.  The wingspan is generally 6.5 to 8 feet (that's over 2 metres).  Here's one being hassled by a fearless or perhaps just foolhardy gull: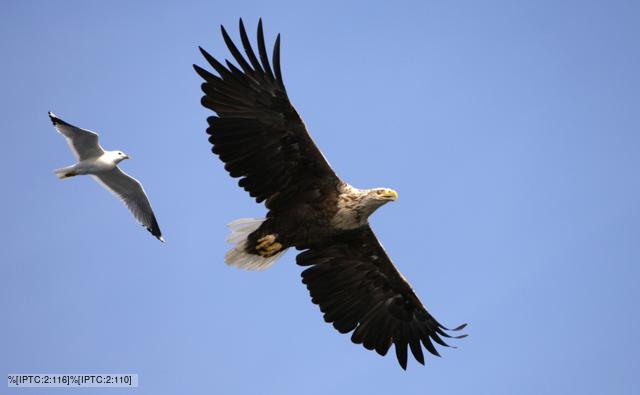 Photo credit: www.bbc.co.uk
I have scrolled through hundreds of images of sea eagles and I can't find a single one taken from the angle at which I saw 'mine'.  I suppose it's not often anyone gets to see one at eye level, just ahead of them.  I have spent all week since wishing I was an accomplished enough artist to create what I saw with paint or charcoal or pastels.
I was back in the same school the next day and shared my story.  Everyone in the school had seen eagles off in the distance, but it's rare to get a closer look.  The other teacher told me a few years ago she was driving the same stretch of road when her windscreen went suddenly black.  She had no warning and got the shock of her life.  By the time her flinch was over, the windscreen was clear and there was nothing to be seen ahead or around her.  Only afterwards did she realise it must have been a white-tailed eagle taking flight directly towards her – as she said, 'nothing else could have been big enough to black out the whole windscreen like that'.
When I was telling the two children in my class (both big dinosaur and bird fans) what I'd seen on the way home the day before, I heard myself saying 'it was so huge and fierce looking – it was like seeing a dragon, or a pterodactyl!'  And it was.  Even if I can never do it justice in words or images, it's an experience I will hold in my heart forever.